As part of the 'Inside Out' festival at King's College this October (2014), Emily and I organised a mass game of Chinese Whispers, drawing upon some earlier experiments at the Gossip and Nonsense symposium in Exeter in July 2013, and the Gossip and Nonsense publication workshop at King's in June 2014.
We took over the lovely back room at Fernandez and Wells in Somerset House, where Emily introduced the broader project with a talk about the French Renaissance court, libellous pamphlets, and attempts to understand a personal investment in the spread of rumour and gossip. We went on to play several games of Chinese Whispers, using quotes from Montaigne, as well as Sol LeWitt's sentences on conceptual art.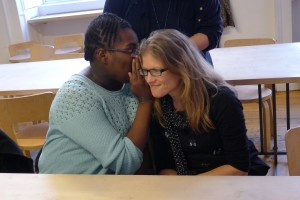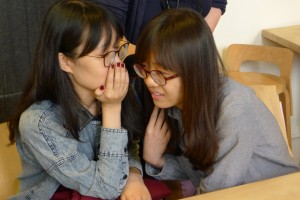 I also talked about the use of  language, and translation, in art – which I wrote about a little in a previous blog. Our participants really enlivened the discussion with their reflections on the process – the difficulty of holding onto the words under pressure, and the intimacy of the whisper.
We experimented in English, and with some 'live' translation in and out of languages that were shared by members of the group.
We closed the event with an outdoor game – using the architectural space of the courtyard at Somerset House as a frame to whisper around. Our participants spread themselves in a line, and as the first person whispered to the second they left the from of the line and went to the back, waiting for their turn to come again. Using this method we created a Chinese Whispers chain that moved all of the way around the courtyard's perimeter.
Interestingly the phrase that we whispered (Sol LeWitt's 7th sentence on Conceptual art, contracted to 'The artist's will is secondary to the process he initiates from idea to completion) soon reduced to a very manageable length, and began to feel like it would not morph any further becoming rather boring to repeat over and over again… as we neared the end of the second side of the rectangular courtyard a participant took action to remedy this, with laughter breaking out along our line as the word 'arse' was intentionally introduced. Somehow by the time we had returned to the Fernandez and Wells doorway in the north east corner of the courtyard we were left with the phrase 'The officer's arse is scarier than his face which is really heavy.'
post script: sound recordings from this event featured in the Radio 4 programme 'Something Understood' on the 7th December 2014, entitled Gossip and Whispers.